Message from the Chief of Mission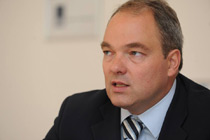 We live in an age of unprecedented human mobility. Migration is considered one of the defining global issues of the early twenty-first century, with more and more people on the move today than at any other point in history.
In Central Asia, which has been a crossroads of goods and people from the days of the Silk Road, hundreds of thousands of people move daily across the international borders in search of employment and opportunity. Millions of Central Asians work abroad and remit funds to their families.